HOME. My baby is beautiful. My body is strong. My birth matters.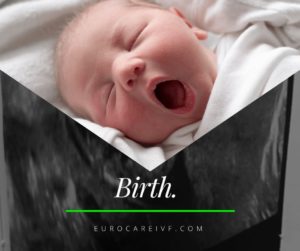 Nothing brings more joy to a family than the birth of a child.
The new parents, grandparents, aunts and uncles are all filled with joy and excitement at the thought of this exciting new chapter.
We are happy to announce the following euroCARE IVF births:
Hoşgeldin "Lisa"! EuroCARE bebeği, LISA'yı dünyaya getiren Alman'yadaki hastamız Alinayı tebrik ederiz. Lisa, EuroCARE Tüp Bebek Merkezinde yapılan başarılı PGS tüp bebek tedavisinin
ardından 28 Mayıs 2022 de doğdu. Bu mutluluğa ortak olduğumuz için gururluyuz.  Biz senin için burdayız!
Ashleigh and Steve (UK) are pregnant with twin boys. After years of trying, egg donation IVF was the only option to have a baby.
We truly hope that their twins will make love stronger, home happier, the past forgotten and the future worth living for.
After 16 years struggling with infertility, Laura and Jamie started IVF with donor eggs in September 2019. The couple from Scotland is 16 weeks pregnant now, and we all are looking forward to the miracle baby to arrive.
From infertility to twins:
Our patients from Iraq faced years of infertility and uncertainty before IVF finally allowed them to have the family they'd always desired.
This amazing story shows us that sometimes patience and perseverance have a magical effect before which difficulties disappear.
Alfie and Imogen are real miracles! They were conceived on the first trial with IVF. The UK family embarked on their IVF journey in 2016. In 2017, they finally realized their dream of parenthood at our fertility clinic in North Cyprus.
"It has been an amazing day. We are all just recovering. Thanks again for giving us our little miracles."
Thanks mum Zoe and dad Scott for sharing your joy with us!